Company

Company
Private Company with Limited Liability "KMG Kashagan B.V." (KMGK) was incorporated in October 2005 by the Joint Stock Company "National Company ' KazMunayGas'" (KMG).

Business goal
The primary intent of KMGK is to control the Kazakhstan participating interest in the Production Sharing Agreement in respect of the North Caspian Sea.

Company share
The KMGK' s participating interest in the PSA is 16,88%.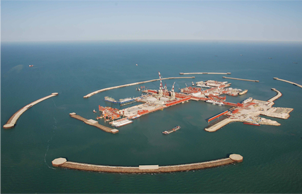 KMGK roles and functions
Representing of KMG' s interests in the PSA and participation in the oil operations for hydrocarbons exploration and production in the Caspian sea under the North Caspian project (NCP).
The KMGK' s development and transformation into the world class company with the purpose of independent implementation of major projects for oil fields development.
Participation in the project management as the Contracting company.
Financing of oil operations and other expenses under the NCP; cost accounting.
Participation in the increase of Kazakhstani content and nationalization of personnel.
Arranging of oil and by-products offtake, transportation and marketing
Details
Project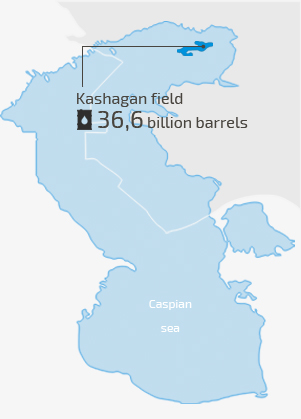 Kashagan field is one of the world's largest and most complex offshore oil fields discovered during recent decades with area of approximately 75 * 45 kilometers.The field reservoir is integrated hydrocarbons accumulation with 4.65 billion tons ( 36.6 billion barrels ) of oil in place.
The challenges for the field development are caused by reservoir's physical properties i.e. high reservoir pressure and high concentration of hydrogen sulphide in the fluids as well as by geographical location of reservoir - shallow waters of Caspian offshore oil and gas block which get frozen during winter period.
Due to the high complexity of the field calling for innovative technical and financial solutions for its development the North Caspian Sea Production Sharing Agreement (PSA) was signed in November 1997 between the Government of the Republic of Kazakhstan and the international consortium "OKIOC" (Offshore Kazakhstan International Operating Company N.V.) which was represented by international oil companies who had vast experience in development of similar types of oil and gas fields. In 2001 the functions of "OKIOC " joint venture were transfered to Agip KCO and subsequently they were passed to the NCOC (North Caspian Operating Company)- new Operating Company at that time.
Details